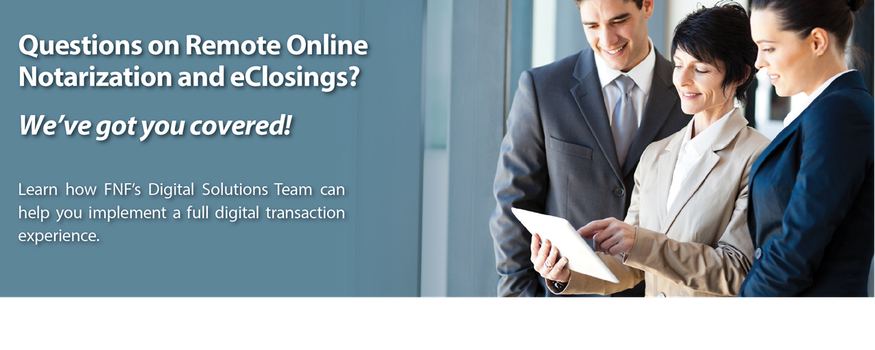 Digital Transaction Solutions
About Our Team:

Experienced in successful digital transactions.
Information and product resource.
Facilitates small-scale pilots with vendors and lenders.
Indentifies and manages processes, risks, and issues.

 

Systems

Approved RON Vendors

DocVerify
https://www.docverify.com/Products/E-Signatures/E-Notaries/Remote-Electronic-Notarizations 

Nexsys
https://www.nexsystech.com/clear-sign/ 

NotaryCam
www.notarycam.com

Notarize
www.notarize.com

Expedite
A Black Knight system currently handling thousands of fully digital transactions throughout the U.S.
www.blackknightinc.com/markets-we-serve/mortgage/loan-origination-solutions/expedite-close/

Pavaso
A single-source platform for both eClosing and RON
www.pavaso.com

Market Terminology

Remote Online Notarization (RON)
Ability to notarize remotely using video in accordance with HB 409.

Full Digital Transaction
Real estate closing where all documents are signed electronically, including the note and notarized documents.

Hybrid Digital Transaction
Real estate closing where most of the documents are signed electronically, except for the note and the notarized documents.

eNote
A digitally signed and stored promissory note that is maintained and transferred electronically.

eVault
A secure storage solution that maintains and transfers the original authoritative copy of the eNote with an audit trail..
 

Software Integration Partners

SoftPro Closing System
Industry-leading title production software that integrates with Expedite, NotaryCam, Notarize and more
www.softprocorp.com
---
Watch our informational update webinar on Remote Online Notarizations
---
Contact us and see how we can assist you in every aspect of your digital closing needs.
FNF Florida Product Support: fnfflorida@fnf.com | 877-947-5483
If you are interested in becoming an FNF approved Remote Online Notary, please click this link for the training requirements. Once approved, you must follow all requirements set forth in this guideline.